Create a captivating
custom children's book
with AI!
Unlock the heart of imagination with our AI-generated custom children's book! Just upload a few pictures of a child and Imajinn will transform them into an astronaut, musician, scientist, teacher, prince/princess, and so much more! This one-of-a-kind gift will transport them to a magical world where they are the star of their own adventure.
A Wild Dream Adventure
A Magical Story
Introducing the most magical gift a kid could hope for - an AI-generated custom children's book! Imagine the look of awe on their face as they flip through the pages and see themselves as the star of their very own adventure. With vibrant illustrations and a captivating storyline, this book is sure to become a cherished keepsake for years to come. Don't miss out on the opportunity to give a child this truly unique and unforgettable experience - order your custom children's book today!
Let your child be the star of their own adventure!
Our AI-powered custom children's book allows any child to take on exciting roles and explore fantastical worlds. With 29 amazing stylized illustrations of their likeness featured throughout, their imagination will be ignited and they'll be eager to turn the page to see what new adventures await!
We do all the work
Just give us a few details, and we will create, print, and ship your custom 30 page book in no time!
Upload the child's photos

Just upload 20-30 images of the child and we will do the rest! We train a custom AI model with a stylized likeness of each child.

We create your book

We create a custom book by generating amazing images of the child in different scenarios, and inserting them into the story!

Receive your custom book

In less than 24hrs, you will receive a link via email to download your custom book as a PDF. And if you purchased the printed version, it will be printed by our printing partners and shipped to you in 7-14 days, depending on your location!
Meet the Author
As a mom of three, Keisha has a deep fondness for the bonding that happens during family storytime. She loves languages, making up silly songs, and has a flair for creative storytelling--often inserting her own children in the adventures. Living in the Dallas area, Keisha is a speaker, an involved member of her community, and can always be found helping others bring their projects to life. Her unique ability to engage anyone brings both depth and laughter to the world.
Our customers love Imajinn!
Here's what some of our customers have to say.
I'm absolutely delighted with my Imajinn Personalized Children's book! The photos are so realistic! I can't wait to see the look on my daughter's face when she sees her dreams come to life on the page! This will be the best Christmas present ever! Thanks Imajinn!

This story book is just lovely! We ordered one as a Christmas present for our niece and it came out beautifully. The process was so simple - just upload a few great photos from your phone and you're on your way to having a collectible storybook your little one is sure to read over and over again. We're going to order another for our nephew today!

I gotta say, it's pretty cool! I'm thinking this is going to make an awesome Christmas present for all the people out there who want an amazing creative gift for their children. 🎄

Elisa Johnston

𝙲𝚘𝚊𝚌𝚑 𝚏𝚘𝚛 𝙲𝚑𝚊𝚗𝚐𝚎𝚖𝚊𝚔𝚎𝚛𝚜
A gift to remember for years to come
The perfect birthday or holiday gift
Choose your book type, select your favorite payment method, and create your book right away. Giving this as a gift? No problem, after checkout we will email you a special link you can use to finish your book later, or gift to someone else for them to customize.
Last-minute gift? No problem, you can get your eBook in less than 24hrs that you can print at home, share, or read on your phone, tablet, or computer. Then your printed book will arrive in 7-14 business days for a lasting keepsake.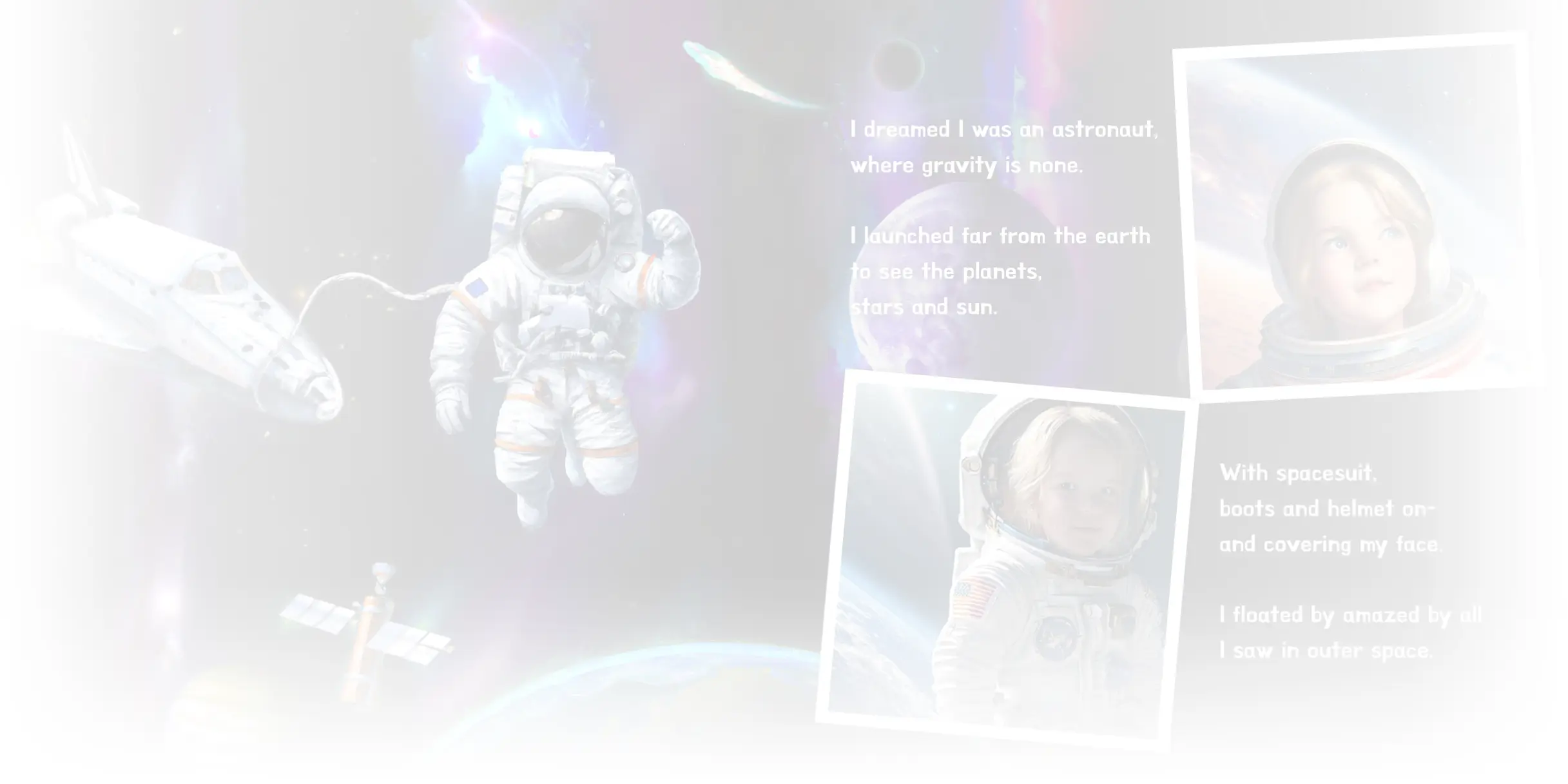 Frequently asked questions
If you can't find what you're looking for, email our support team.
How lifelike are the AI generated images?

The quality and similarity of the images we create for your book are highly dependent on the training images of the child you provide. If you follow our instructions and provide a good variety of images, the results will be very impressive.

Will the images look exactly like the child?

The images we create are highly stylized and artistic, so may not resemble the child 100%. Things like eye or hair color are especially hard for the AI to get perfectly. We generate hundreds of images and manually select the best ones for your book, so we think you will be very happy with the results.

Do you have a satisfaction guarantee?

We are certain that you will love your Imajinn storybook. But if you are dissatisfied for any reason, please do get in touch. We stand behind our product and want you to have a stellar experience!

What if I don't have 20 pictures of the child?

When you purchase your Imajinn Storybook, you will receive an email with a secret link to submit your images. This link functions similar to a gift certificate, so you can share or gift it to friends and family for them upload the images and complete the book.

What can I expect as far as the printed book?

Your Imajinn Storybook will be a beautiful matte soft or hard cover, full-color 30 page treasure! The book's dimensions are 8x8"/20x20cm. The book is printed on high quality 65lb heavy paper and is bound with a durable binding.

How long does it take to create the book?

After you submit your images, the process will begin automatically. Training our AI and generating your images takes about 30-45mins, but then our staff will handpick the best images for your book, so please give us up to 24 hours. We will send you an email when it is ready to download!

How long does printing and shipping take?

We use a professional printing service to print your book at one of 16 global sites, so can ship quickly worldwide. The printing and shipping process takes between 7-14 days for most countries. Check estimations for your specific location here: https://www.gelato.com/en-US/delivery-times

Can I download the images as well as the book?

Yes! During checkout you can add on this optional package, then when your book is ready you will receive an email with a link to download all 200+ generated images as well as the book. You can use the images for anything you like!

What about privacy? Do you keep the images I generate?

We do not own the training images you upload, the images you generate, or your trained model. We will delete all this data shortly after your book is generated for your privacy. We do not share your data with anyone, and we do not use it for any purpose other than to provide the Imajinn service. Please see our privacy policy for more details.

What will my child become?

Our 30 page book has 14-15 scenes featuring one or two custom images of your child. They range from careers like astronaut, firefighter, teacher, and doctor, to some more imaginative dreams like prince/princess and superhero! We won't spoil the surprise, but we think your child will be very happy with the results!

What ages is this book good for?

This book is best for children ages 2-11. The book is designed to be read with your child, and we think it will be a great way to spark their imagination and encourage them to dream big!

Do you offer expedited shipping?

Yes! We can offer expedited shipping for an additional fee. Please contact us so we can give you a custom quote and payment link.
Or checkout this fun gift for adults, our AI Photobooth!
From blah to BAM!
Upload a handful of boring photos or selfies and let Imajinn AI turn them into amazing one-of-a-kind portraits and profile pictures of you, a friend, a couple, or pet.
Re

imajinn

Yourself!
Visualize with Imajinn AI today.